Our Peripheral Neuropathy Doctors
Put An End To Your Pain And Suffering!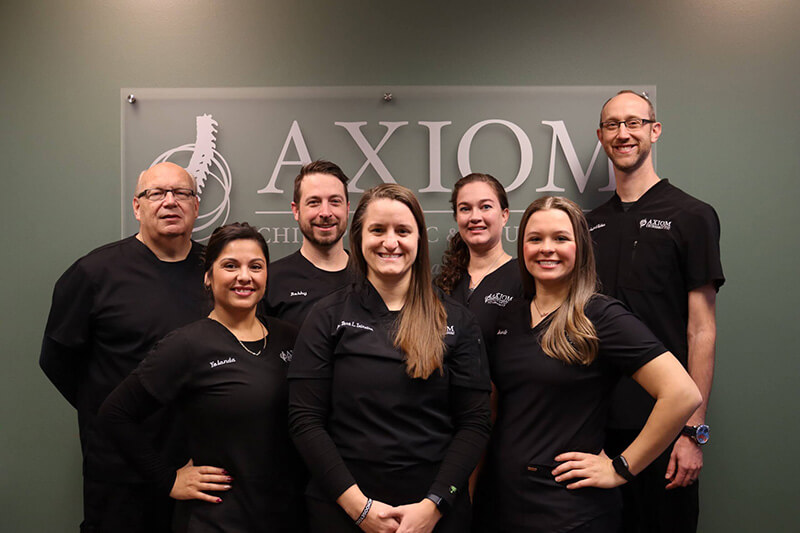 Combining Compassionate Care with Cutting-Edge Technology
Here at Axiom Chiropractic & Neuropathy, we utilize revolutionary treatment methods featuring state-of-the-art medical-grade equipment to reverse the pain and other negative symptoms caused by the condition. Our passion is peripheral neuropathy, and our mission is to help every person suffering in silence feel heard and find relief from their pain. You can trust that our caring staff will develop a treatment plan designed just for you based on your illness and your lifestyle. To us, you're not just a number, and we'll go above and beyond to provide you with the highest level of care.
Dr. Justin Wubben
Clinical Director
Dr. Wubben is a Board Certified Chiropractor who has helped thousands of people overcome substantial health challenges since 2010.
In 2014, Dr. Wubben's father was diagnosed with cancer and later developed neuropathy in the hands and feet after receiving extensive treatments of chemotherapy and radiation. This made Dr. Wubben much more aware of a larger problem that has stumped the medical model for years.
After receiving extensive training in cutting edge technology Dr. Wubben is now able to help individuals with numbness, pain, tingling, pins and needles in the peripheral nerves of the hands and feet, along with balance issues obtain relief when they were told nothing could be done.
Dr. Randy Morthland D.C.
Dr. Morthland is a Board Certified chiropractor that has several years of experience treating musculo-skeletal conditions of the spine. He is a Cum Laude graduate of Palmer College of Chiropractic and has spent his career practicing in Illinois and believes the body has the innate ability to heal itself without the use of medicine or surgery. Dr. Morthland has taken several hours of post graduate classes to learn additional adjusting techniques, nutrition and therapies that will aid in the treatment of neuropathy.
Yolanda Stovall
Office Manager
Meet Yolanda! Prior to joining the Axiom family, she owned and operated a small business here in Sioux Falls. In 2020 Yolanda followed her calling for helping others which led her to joining the Axiom family. She is extremely passionate about growing our clinic while educating the community about different neuropathy solutions. Outside of the office, Yolanda enjoys spending time with friends and family, watching sports, and traveling with her husband and their 5 beautiful daughters.
Daniella Tarrell
Front Desk Manager
Daniella joined the team at Axiom Chiropractic & Neuropathy in 2020. She graduated from Bellevue University in Bellevue, NE with a degree in Healthcare Management. She greets patients with her warm, bubbly personality. She loves watching patients find happiness and confidence in our office. When not working, Daniella enjoys golfing, baking and spending time outdoors with her significant other, Cory and their two dogs.
Bobby Cook
Lead Neuropathy Case Manager
My name is Bobby Cook. I was born in Luverne Minnesota and now live in Sioux Falls with my Wife and 2 children. I graduated from MSU Mankato with a degree in Psychology.   I have been with Axiom for almost 2 years now and in that time, I have overseen hundreds of Neuropathy cases and have had the absolute pleasure of seeing person after person get their life back.  Having a deep understanding of the human mind and hearing the success stories of the people affected by this dangerous condition has given me a unique perspective on what neuropathy is, what causes it and most importantly how to get relief from it. 
Michelle Roddel
Lead Examination & X-ray Technician
Hi, my name is Michelle!  I have been a part of the Axiom team since 2015, and I absolutely love it.  Being a part of helping people feel better and be the best version of themselves is such a rewarding experience, and I feel blessed to be able to come to work every day and serve each of you!  In my free time, you can often find me with a book or a knitting project in my hands, watching Minnesota Wild hockey games, or spending quality time with my husband and our 3 fur babies.
Have You Been Told Nothing Can Be Done and You Have to Live Like This the Rest of Your Life?
It's simply not true. Take the first step towards healing today by booking an appointment with our exceptionally skilled team. We are committed to assisting you on your path to recovery and providing the support you need.